Breathing fresh air: Breeze Technologies now supports Coronavirus prevention with new indoor air quality management solution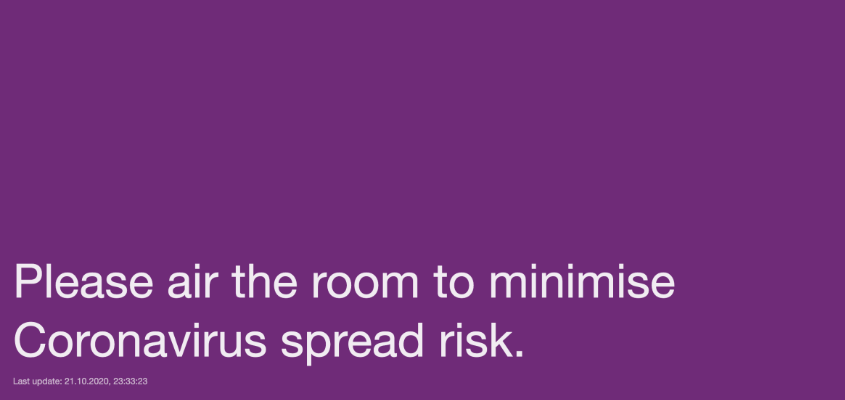 Hamburg. To support combatting rising Covid-19 infection numbers, Breeze Technologies has launched a new Coronavirus prevention mode of its indoor air quality management solutions. The new dashboard visualises whether the recommendations from the German Federal Office for Environment (UBA) and the SARS-CoV-2 worker protection regulation from the Federal Agency for Industrial Health and Safety (BAuA) are followed. Regularly airing rooms can significantly decrease the risk of Coronavirus infections in buildings. UBA and BAuA are recommending to keep CO2 concentration levels below 1,000 ppm (parts per million). CO2 is exhaled with every breath, and is therefore an indicator for stale air.
Air quality sensors from Breeze Technologies have been monitoring local CO2 concentrations together with many other parameters for a long time. With an adapted dashboard that can be displayed as a web application on displays, tablets, and other devices, Breeze now turns the data into actionable insights for Coronavirus prevention. Depending on the sensor version, users can see current concentrations of CO2, volatile organic compounds (VOCs) and many other air quality parameters rated on an air quality index scale. The app alerts users in real time when the room needs to be ventilated. This helps to actively include space users in Coronavirus prevention measures.
The Coronavirus prevention mode is a free update for existing users of Breeze's indoor air quality sensors, and is included with all new indoor air quality management subscriptions.
The Digital Hub Logistics Hamburg is one of the first users of the new capabilities. Managing director Johannes Berg reports: "It is our utmost priority to keep the users of our facilities and particularly of our co-working spaces safe. The solution from Breeze fits perfectly into our prevention strategy. It's a great motivation for everyone to ensure sufficient fresh air in our offices. The easy plug & play installation and the excellent value for money have really convinced us!"
"The Coronavirus prevention mode is our contribution to the current fight against the Corona crisis. Already before Covid-19, we found that facility managers typically have little experience in the field of air quality. Because of that we made comprehensibility and transparency the foremost priorities when designing our solution. This way, the building management – but also every individual space users – can keep an eye on the freshness of the air they breathe, and act accordingly", says Robert Heinecke, CEO at Breeze Technologies.
Interested organisations find more information about Breeze Technologies' indoor air quality management solutions on the company website, on the Coronavirus prevention mode micropage or by directly contacting the startup.
https://www.breeze-technologies.de/wp-content/uploads/2020/11/Coronavirus-Mode-Hero-Image.png
400
845
Robert Heinecke
https://www.breeze-technologies.de/wp-content/uploads/2017/04/Breeze-Logo-Header.png
Robert Heinecke
2020-11-12 09:00:59
2020-11-26 21:38:52
Breathing fresh air: Breeze Technologies now supports Coronavirus prevention with new indoor air quality management solution