Hamburg-based startup Breeze cooperating with student team from Fresenius University of Applied Sciences in Hamburg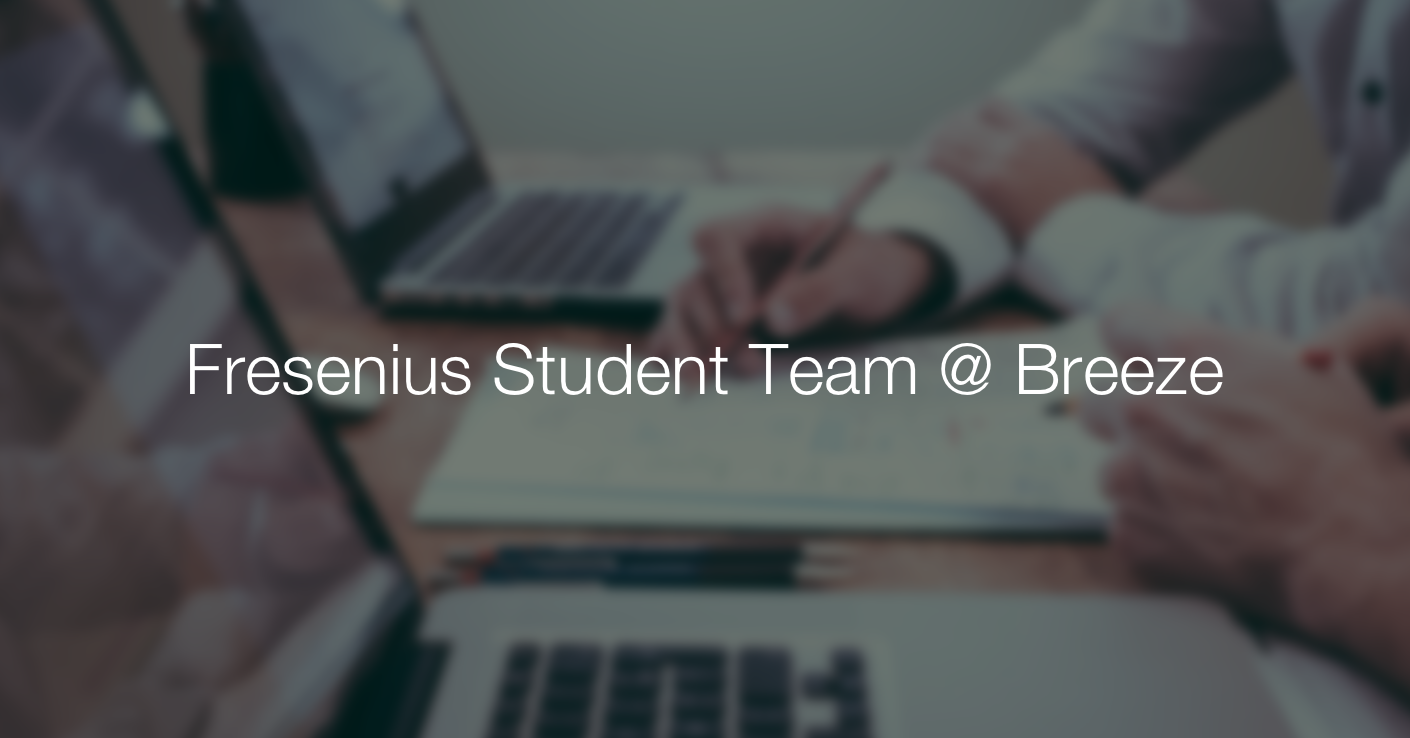 This semester, a student team from Fresenius University of Applied Sciences in Hamburg is completing their mandatory practical-work project at Breeze. They are advancing our social media activities and will be writing and publishing a portion of our Facebook and Twitter posts in January. The following text is a guest contribution from the team. We at Breeze would like to cordially thank Parham Sabahi, Bijan Khavari, Leonart Eder and Abdurrahmen Aydin for their work.
This text is only available in German.
Im Zuge einer Projektarbeit der Hochschule Fresenius arbeiten wir zu fünft daran, die ersten Schritte des Start Ups "Breeze" so erfolgreich wie möglich mitzugestalten. Startschuss war hierbei der 28.09.2016. Breeze-CEO Robert Heinecke hieß uns in seinen Räumlichkeiten des Startup Hubs der TU Hamburg-Harburg willkommen. Er stellte uns sein noch junges Startup vor.
In den folgenden Wochen machten wir uns an die umfassende Analyse unterschiedlicher Faktoren, wie etwaiger Konkurrenten oder der bisherigen Web-Performance von Breeze. Dabei kamen unterschiedliche Erkenntnisse zu Tage. Zur Semester-Halbzeit am 11.11.2016 präsentierten wir Robert die bisherigen Zwischenergebnisse und hielten Rücksprache für den weiteren Verlauf der kommenden Wochen. Hierbei einigten wir uns, dass eine stärkere Präsenz auf digitalen Kommunikationskanälen notwendig sei, um das Bewusstsein für das Thema in den gewünschten Zielgruppen zu steigern. Eine entscheidende Rolle spielt hierbei die "Lean Startup"-Methode. Diese besagt primär, dass Maßnahmen auf Basis von vorher aufgestellten Hypothesen geplant und durchgeführt, und ihr Erfolg auf Basis von KPIs kontrolliert werden sollen.  Diese sollen zu unserer Kampagne, konkreten Lerneffekten und Erfahrungswerten führen.
Im Laufe des kommenden Januars werden wir mit Hilfe eines vorgefertigten Redaktionsplans entsprechendem Content und relevante Informationen präsentieren. Wir bedanken uns schon einmal bei Robert und seinen Kollegen für die offene und freundliche Zusammenarbeit und blicken nach vorne auf weitere erfolgreiche Wochen.
https://www.breeze-technologies.de/wp-content/uploads/2017/01/Cover-Blog-Student-Group.png
738
1410
Robert Heinecke
https://www.breeze-technologies.de/wp-content/uploads/2017/04/Breeze-Logo-Header.png
Robert Heinecke
2016-12-30 15:00:47
2016-12-30 15:21:39
Hamburg-based startup Breeze cooperating with student team from Fresenius University of Applied Sciences in Hamburg